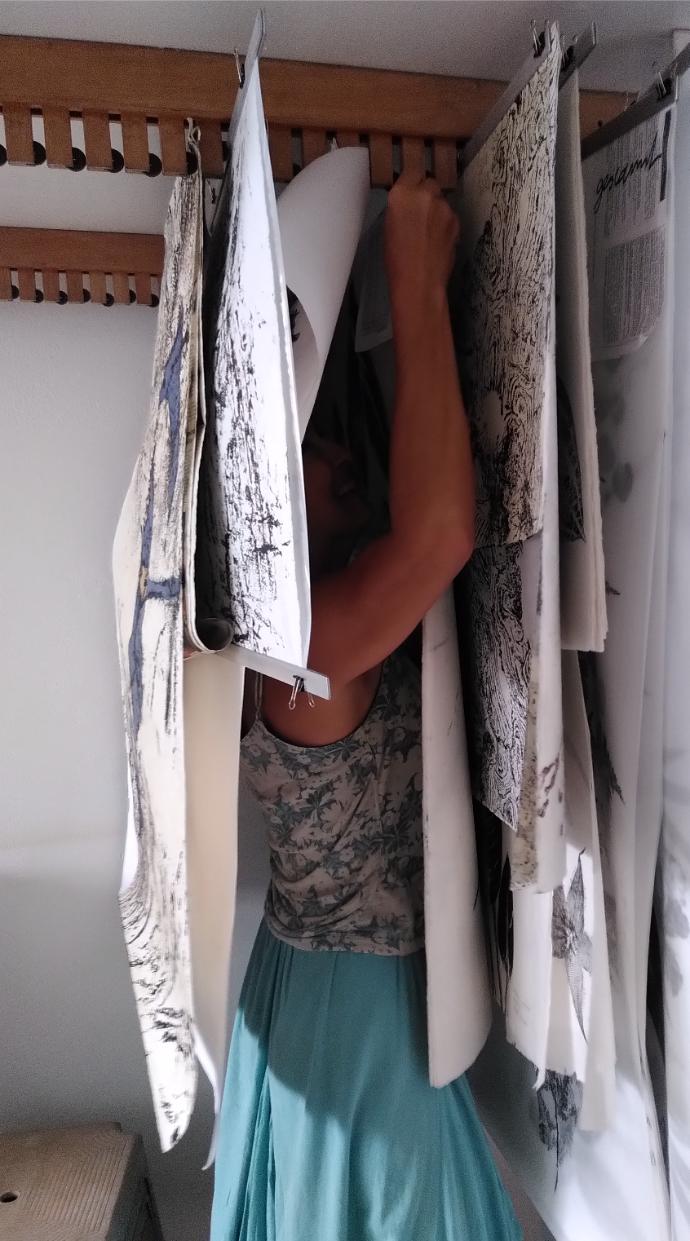 Printing trees and plants
Originally from Germany, where she studied Applied Art and Advertisement, Birgitta's artistic focus is centered around nature, wood and bark prints. Spending more time in the studio than in school, Birgitta became the youngest member of the Association of Professional Artists in Nuremberg. She went on to finish college in graphic art and found herself working in an advertisement agency in order to pay for her winter travels, - a time she would spend focusing more and more on wood printing: the topic in which she would ultimately pass her fine art master degree, and spend her life exploring. At a pivotal moment in her life during the German re-unification, Birgitta was offered an opportunity with Philipp Morris, but instead she chose to live the 'bohemian life' to the extent that for stretches at a time she would barely leave her studio - which for a time also became her living quarters until 1998. For the following seven years, Birgitta lived what she calls her "Retreat in Nature"; perfecting botanical, wood and bark prints, but also teaching at the Colleges of Art in New Delhi, Porto/Portugal and Kumasi/Ghana, as well as participating in various fellowships around the world.
In 2002, on one of her trips to South India she visited the Ashram in Pondicherry and felt a strong calling towards Auroville. Her work with prints was refining in her a deep sense of connection with Nature and Consciousness, and her inner voice dictated that she visit. inspired and curious about Auroville's aspiration for the Divine, she spent her remaining vacation in Auroville, and officially joined the Auroville community in 2004.
One year later, she established an Auroville-based jewellery-design company called Matrigold, using the same Gold in Glass technique, as used on the Matrimandir. While at the Samadhi - the inner sanctum of the Pondicherry Ashram, she experienced a vision of her first jewellery collections.
In the aftermath of a motorbike accident and due to physical complications, she spent more time with Gold in Glass and with delicate flower printing. For ten years, during her break from bark printing, Birgitta elaborates: "I terribly missed bark printing and when I finally could take it up again, I started drawing in the bark prints the visions that appeared to me when I looked at them. The animation of Nature is my life task, I couldn't forego it for too long. When I do bark prints I see the manifestation of other realms; there are different realities that I am exposed to and that I wish to focalize so that others can see them too. Nothing is inanimate, consciousness surrounds us."
As soon as she could undertake the physical work of bark printing, Birgitta was back at it; spending entire days to prepare a tree for the layer of carefully selected eco-friendly oil colour that will ultimately be used to make a print, sometimes spending a whole month on a single tree. She shares that once the prints are taken, the manifestation becomes visible only after the print is done: "It's like a miracle unfolding before my eyes, I feel magic and I am filled with gratitude. The images are beyond my imagination or will. I try not to manipulate, but to unveil them."
Birgitta's prints are nothing short of mesmerizing. They hold an ancient and inexplicable wisdom. "In the beginning I expected only patterns on the prints" she says, "but it is the Consciousness of Matter which manifests and shows itself to me."
The power of this art form is for each of us to experience. Once, when printing dilapidated walls during an Art Project Residency in Bangladesh her prints revealed winged lions, the surrounding villages, and "a frog that eats a snake", which belongs to the founding story of the palace. It turned out that these images were all deep-rooted elements of the historical aspects of the region where she was.
But the bark print really started to fascinate Birgitta in 1995, when a giant witch appeared in her prints, she recalls:
"I worked on a big piece of paper and when it started raining I gave up and threw it into my car. When I looked at it back in my studio, I saw a two meter tall witch looking at me with such a presence that I was shocked. I felt shivers and actually felt manipulated. At that point, I put up chairs for my colleagues to see if they would also experience what I had just seen. They did - and they then asked me how I did it. They couldn't believe that this was just a bark print forming this image without any interference from my side. This was the starting point of my spiritual research and since that moment I try to find an answer for this phenomena and to make the invisible visible."
Inge van Alphen
For It Matters