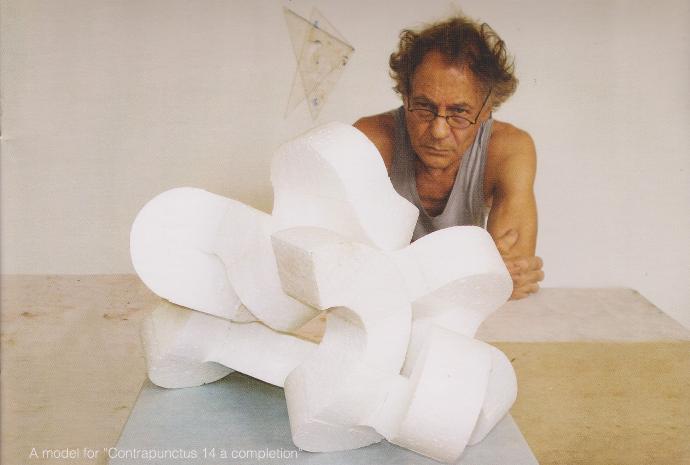 Sculptor & Visual artist


Henk van Putten (1936-2019) was born in the Netherlands (Amsterdam) and called India home after he settled in Auroville in 2001.
He attended the Technical School Amsterdam Holland and was an independent artist. A prolific painter, designer and sculptor, he participated in numerous exhibitions in Asia and art fairs across Europe such as the Art Basel-Cologne-Frankfurt. In 2014 his work 'Stretching' won the Liu Kaiqu Excellence Award, Wuhu, China.
His work is included in private collections and Museums in the Netherlands, Germany, Spain, Switzerland and UK.
Henk was the publisher of the first edition of Art Stable Review and the founder of the Art Stable Gallery in the Netherlands.
He worked with various materials like steel, stone, bronze and wood to form the building blocks of his sculptures and multi- dimensional objects.
He had a passion for spaciousness and he was fascinated by his finding that sometimes the paintings were more spacious than the original sculptures. It seemed he had found the right implements: the basic forms of their symbols.
Henk's work is defined as constructive art, as to him "less is more". His ideal was a simple, strong, shape, well made and of interesting construction.
He looked for new and interesting ways to arrange the all-time basic geometrical forms, notably the circle and circle-elements. By manipulating these given elements in a certain way, surprising and interesting new shapes can be created. It is the geometrical idea, the play with newly discovered ratios, which takes precedence.
He also played with kinetic art and the stainless steel rods series "Open Lotus" reveals by light a new pattern in the shadow.
It is an interesting process for the observer to discover the essence of the construction, and it creates the beauty of Henk van Putten's work.


By Sandra B.P
For It Matters