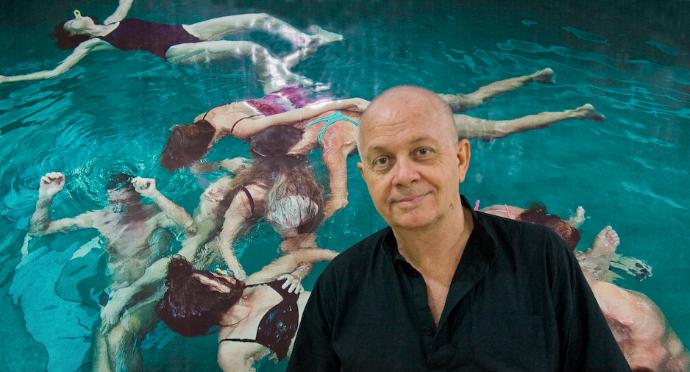 Visual artist
From a young age Ireno had an inclination toward art. He recalls that as early as five years old he was known to sit silently by a windowsill, equipped with binoculars that he would spend long hours with. Contemplating the play of light and reflections on the sea, he fondly remembers feeling entranced by the ability to get a much closer look at his surroundings, slowly experiencing the perceived reality in a new magical and deeper way.
Along his path, he discovered the work of Sri Aurobindo. Seeking answers from an inner calling, Ireno first arrived in India in 1984 after hearing about the Sri Aurobindo Ashram in Pondicherry. He recalls a vivid sensory and emotional connection during his first days in Pondicherry, where he landed with his wife. Although Ireno's permanent move to Auroville in 1988 was driven by a deep search for answers to the metaphysical questions that occupied his mind, as an artist he found in India a visual paradise that grounded him immensely:
"When I came to India and found Pondicherry and later Auroville, it confirmed the destiny of my life. I found people who were so open and genuine. As photography was a big part of my life, I rejoiced in a closer relation between photographer and subject, which immediately created a magnificent bond. Compared with my native place, people didn't mind that I took pictures and I have not experienced any other country with this variety of cultural heritage. It was truly like I found paradise."
Having found his home and a niche for his art over the years, Ireno published a handful of books on Auroville and Pondicherry. Reminiscing about the early days of Auroville's development, he highlights that his artistic expression sometimes also turned to a maximalist approach to seize the harmony in the multitude of elements in a frame. Passionate about his archives that catalogue and document precious memories to offer them to future generations, he expresses:
"Auroville is an experiment in Human Unity and I was privileged enough to be one amongst a handful of photographers to closely follow the manifestation of this township; sometimes the growth would unfold as I tightly clutched my camera."
Currently, he has numerous ongoing series, one of which is called 'Inclusions' and represents photos taken in India with an impartial approach that embody the entirety of an experience: "In this series nothing is unimportant, nothing is privileged; the eye moves in an attitude of communion to embrace the maximum level of information possible".
As time passes, Ireno is more and more drawn to subjects belonging to what he calls 'slow art' which requires a certain slowing down, taking the necessary time to appreciate a meaning that can become universal. He explains that a deeper layer of symbolism can unfold, although he does not intend for his work to be educational. For example, one of the most special moments and highlights of Ireno's career is a series named 'Water Being' on the theme of water and the human body. Working on various Aquatic Bodywork forms in Auroville he found himself particularly drawn to these practices. "During these activities moments may emerge that could act as symbols and tangible manifestations of Love and Unity," he says, "and in those moments, when there is an Awareness of the whole, I have been blessed to feel it first and then lucky enough to record it."
Ireno's work is inspired by both silence and cacophony, allowing him to blend minimalism and maximalism while enjoying the cultivation of both, as well as the embracing the fullness of life in all its aspects.
Inge van Alphen
For It Matters