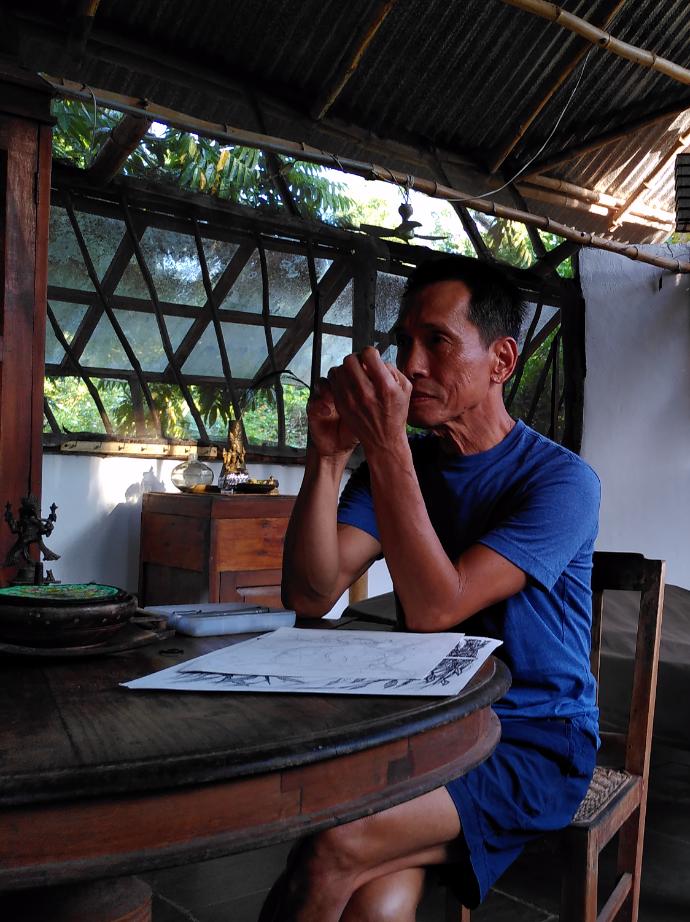 Visual artist
Hailing from Borneo where he grew up alongside nine siblings, Ongkie Tan is a self-taught artist who dropped out of college and moved to the U.S. to focus on street art in Los Angeles during the 80's.
Having found his place in the art scene of the time he painted for the art department of the film industry and was later represented by numerous galleries including Beverly Hills Gallery and the Museum of LA County. During this period, he also worked as a hair dresser in a famous celebrity salon, in Beverly Hills. Describing himself as "young and ambitious", in the aftermath of the Rodney King riots that "turned LA upside down" as well as the Northridge earthquake that shook the city, he decided to leave the U.S and backpack around the world - an endeavour that lasted for ten years.
Ongkie's story is not without challenges: Not only did he loose a big part of his savings in the financial crisis, but he was also represented by a gallery that filed for bankruptcy while having already sold his art. But, having lost his mother at the age of 18 when he also learned to stand on his own two feet and earn his living as a hair stylist, he had his passion to fall back on to carry him through. In his own words he describes himself as "meticulous to the point of obsession over details that others don't see"; certainly a trait that has contributed to his art, as his fine drawings embody the detailed strokes of nature. Inspired by his early days in Indonesia, where tattoo art and life in the forest were his first source of inspiration, Ongkie's art represents the presence of light and shadow, good and bad, in each of us and in the world at large. Having left his art behind to focus on hair styling, it yet always called him back.
In Auroville, the last destination of his ten-year travel, he found himself equipped with only a torch light during a tropical cyclone that resulted in extended power outages. He found solace once again in his drawings and discovered his love for black and white. His simple house surrounded by nature, birds, and light, is his refuge and muse. While hair styling is now on pause, his art is his channel to "let go of expectations and be in the moment". Recently, his paintings jumped from animals and psychedelics to family, a theme that he is beginning to explore more.
Though his friendly hair styling slots are missed by his loyal clientele, his fine art speaks equally powerfully, with a sense of perfection and purpose that leaves a mark on all who see it.
Inge van Alphen
For It Matters
Get in touch if you have any questions or if you wish to have the full catalogue